Holiday deals and steals
I always manage to find more things that I like that aren't on sale, so today's post is a mix of the two. I'm hoping you find more things you need in your wardrobe that are discounted and don't have to be tailored! Happy sale shopping!
Madewell - 20 percent off summer must-haves. You can't go wrong with stripes. You can find this bold striped blouse here or this patriotic striped tee here. You can find the comfy perfect for running errands on the weekend striped dress here. I have these comfy sandals and I love them. Seriously, they look great with everything. You can find them here. Who doesn't like Mickey? A sweatshirt is a great option for cool summer nights and it's easy to throw in a tote during the day. You can find the sweatshirt here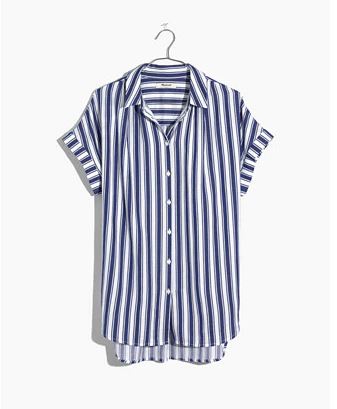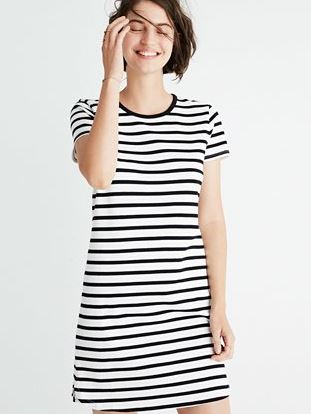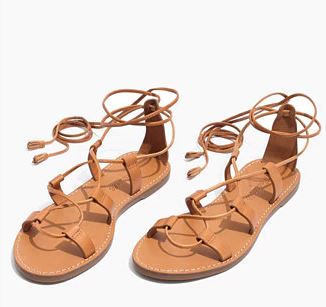 Sam Edelman - 20 percent off sale items. Same Edelman makes really comfortable shoes that are priced right, so if you have a hole in your shoe wardrobe, I would check out this sale. These gingham heels are adorable. You can find them here. I have a similar pair and I get stopped every time I wear them. These minimal sandals are sexy and come in a ton of colors. Check them out here. These blue and white slides would look great with a monochromatic white outfit or a white tee and denim, they are the hero piece of your outfit. I like that they have a small wedge. Find them here. These black and white raffia sandals are so fun and would transform a simple outfit. You can find them here. These striped sneaker/espadrille hybrids come in go with everything denim too.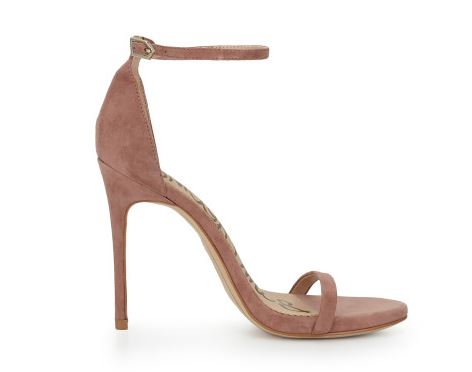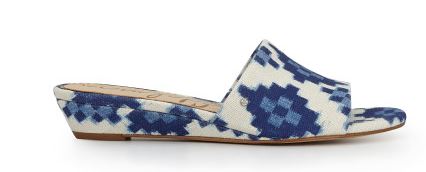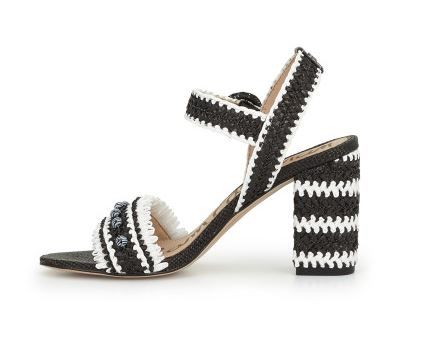 J Crew - 30 percent off select full price items and 50 percent off All-star days picks. I went to J crew on Thursday and the sale is really GOOD! Ther are so many cute things I would buy, so to limit my work and your time spent reading, I'll limit it to what I bought.
These gold platform espadrilles are so comfortable and help vertically challenged people like myself. My chic friend Claire has them, so I knew they were a must. They weren't available in my size online, but I found them in store for 50 percent off. They are one of the best purchases I've made in a very long time. Besides gold leather, they are available online in cerise (leather) and nude (suede). Hunt them down!
The sale was so good that I also bought one dress that's not available online in this print at 30 percent off. It wasn't too long, so I didn't have to shorten it, but I had to take it in around the sides of the bust. I also bought this beautiful blue and white one too. It's not on sale online, but it was 30 off in store. Online reviewers asked why isn't it available in petite and I wonder why too. So, at 5'2, I had to have it shortened and the straps were taken up. The blue is vibrant and gorgeous and worth the cost in my opinion. It was 50 percent off and I don't have anything like it in my wardrobe. I also bought this ringer tee because it reminded me of tees when I was younger. I bought a small and it runs long. I wouldn't buy it at regular price but at 30 percent off, it's now mine.
If you couldn't tell already, I LOVE block prints, so I obviously bought this top, which was 30 percent off. It's flowy and light, so it's perfect for a blazing hot day. The colors are soft but more vibrant in person. I just love the tassel closure that has a bit of light blue tint at the bottom of it. Little details have a big impact on me.
This dress is 37 percent off, but I'm warning you, it's short. It hits above the knee on me and I'm 5'2, so I would avoid it if you're taller. The description does say it hits above the knee, so I took a chance because I'm petite and it's rare something is short on me. It has an interesting and flattering cut above the waist as you can see in the picture. The verdict: it's a great date night dress.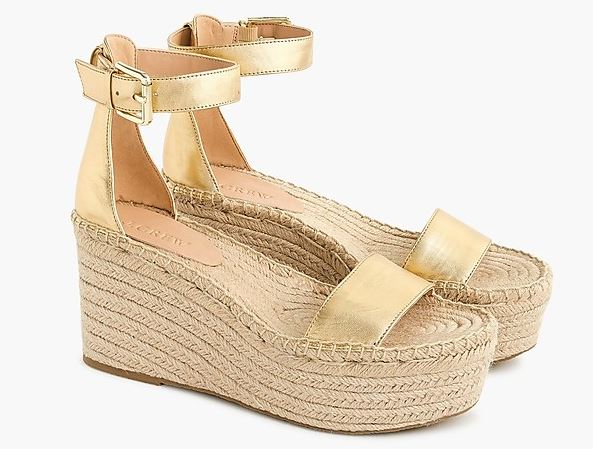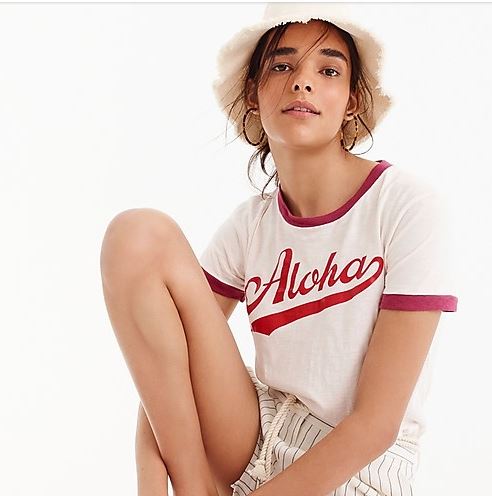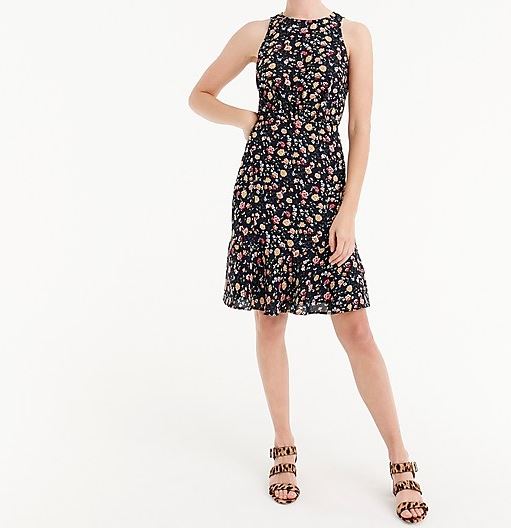 Shobop - (sorry, mostly not on sale stuff listed) I love this Ulla Johnson blouse. I love everything the designer makes, but her stuff is pricey. This top is a classic that you'll wear for years to come if you can splurge. This dress is a fantasy dress and obviously not cheap, but someone may have an occasion to attend where it makes sense to buy it. I thought it was lovely and something I would love to wear because I'm not a bodycon dress type of girl. This is a comfy blank slate type of dress that's perfect for cute accessories, and I love the color, which I think looks good on everyone. I'm a sucker for a pussy bow blouse and Tory Burch makes some good ones. This summer version is no exception. Levi's are a classic and these are cropped to show off those cute sandals you just bought. This is a fun sweater and great for someone who is indecisive between choosing to go casual and formal. You get a bit of both with this sweater. It reminds me of old J Crew, which is probably why it spoke to me. I'm missing that Jenna flare. I'm loving these wide-legged white jeans. I like that these aren't the typical skinny jeans and help you to look a bit fashion forward. The cut elevates a plain outfit and looks especially cute with a striped tee or even a button-down and flats or loafers. I love a white dress and this Love Shack Fancy option is gorgeous. I avoid strappy dresses where I can't wear a normal bra, so this is not a option for me, but I love it. I spotted this blouse on a blogger and thought it was really cute. It's also on sale for $66. I've been thinking about it all day. Yea or nay?
More sales - Moda Operandi is taking up to 70 percent off through July 4.Net-a-Porter is taking up to 70 percent off. Neiman Marcus is having a last call sale with up to 70 percent off. Nordstrom is taking up to 40 percent off select styles from Wednesday, May 23 through Monday, June 4. Rebecca Taylor is taking an extra 30 percent off sale using the code JULY30. Anthropologie is taking an extra 25 percent off sale items and up to 50 percent off ready-to-ship furniture. Bergdorf Goodman is having it's annual women's and men's designer sale with up to 75 percent off. Ganni is taking up to 40 percent. Need Supply is taking up to 60 percent off on new markdowns. Bloomingdale's is taking up to an additional 40 percent off sale and clearance items through July 4.
Happy July 4 sale shopping! I hope you find some great deals and spend the rest of the time with family and friends.
Thanks for reading.