A trip to Soho and Lingua Franca for less
Lingua Franca brings their hand-embroidered sweaters to the Whitney in the form of sweatshirts.
If you're unfamiliar with the brand, they are known for their hand-embroidered cashmere sweaters that are embroidered with sayings from famous Hip Hop lyrics and more recently political slogans including "I Miss Barack" and "We Are All Immigrants."
The sweaters aren't cheap because they are cashmere and hand embroidered. Now, due to a special collaboration with the Whitney Museum of American Art to commemorate their ongoing exhibit, "An Incomplete History of Protest," the brand has created sweatshirts with protest slogans, which are more budget friendly.
Since the 2016 election, the brand has been donating $100 from the proceeds of each sweater sale to a charity of the buyer's choice. The Whitney Museum'took notice but they were concerned that the price point of the sweaters was too high since they usually retail from $360 to $400, so they decided to invited Stateside (owned by the former owner of Splendid) to develop a less costly sweatshirt that retails for $125. You can find them at the Whitney shop and here or here. You can find the original brand's cashmere with hip hop slogans here.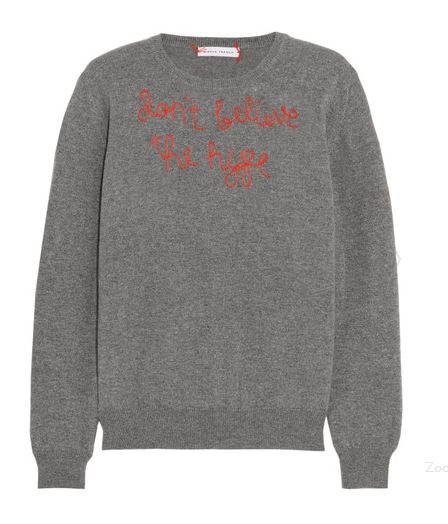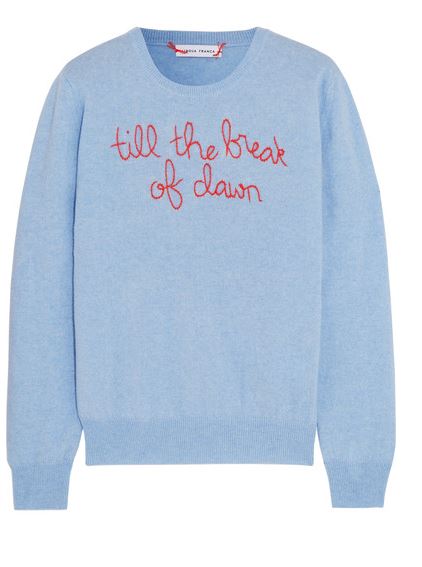 On Saturday I took a trip down to Soho to visit my friend Haley. I had wanted to go to Sézane since they opened in September and Haley was game. The Parisian brand has always been online-only for the United States, and international shipping isn't quick or cheap, so I had never placed an order. Their prices are reasonable (a blouse is around $120, with dresses coming in below $200), so I was happy that they opened a store.
I got there at around 1:00 PM and had to wait in a short line. I haven't waited in line since college, so that was a (not so nice) surprise. After you pass by the fabulous tile mosaic as seen in my pictures below, you're greeted by a staff wearing the Ninon blouse in white, (it comes in black and red too - see below), which I ended up buying. The staff was very accommodating and obviously good models. If you don't want to buy clothing, they have jewelry, mugs, nail polish, footwear (you can see one of my favorite boots below), handbags and more to choose from. If you don't want to make a purchase, they have coffee from local French/American cafe Maman and a photo booth.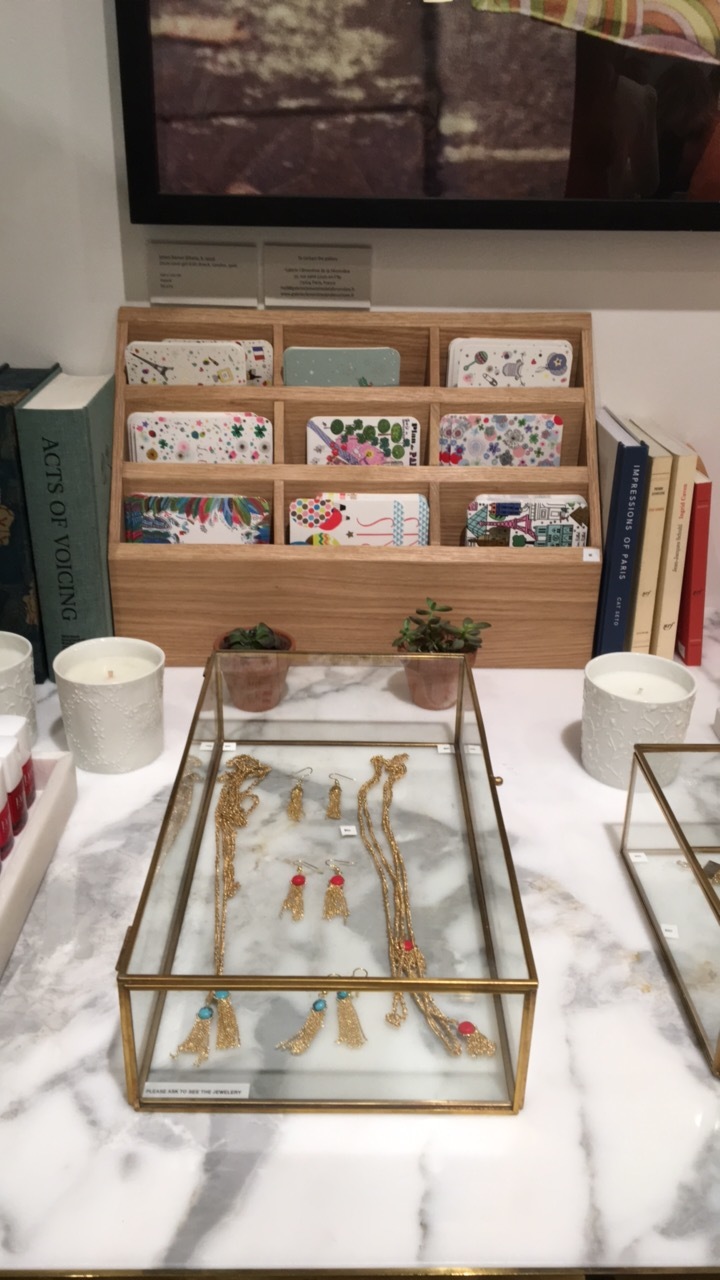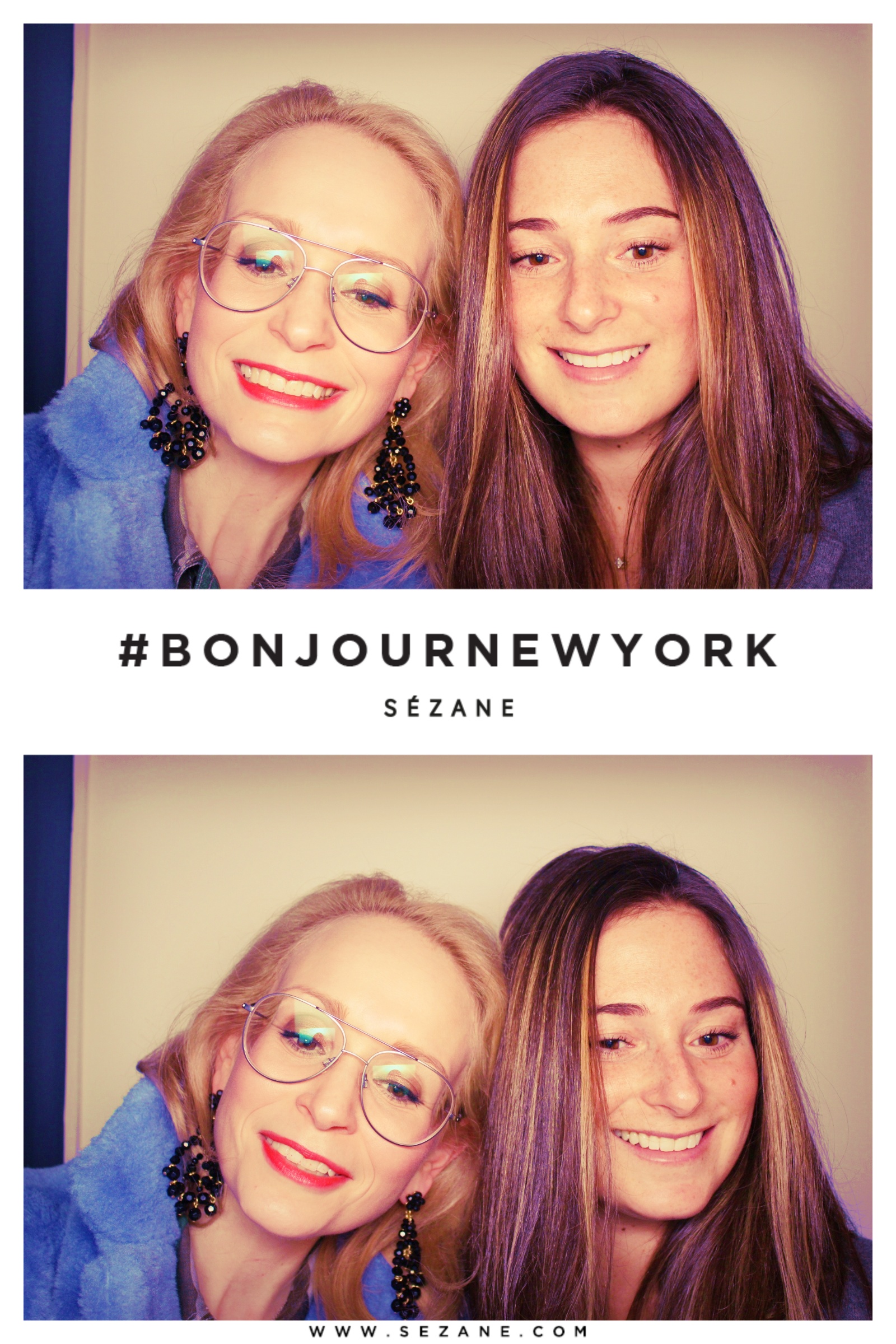 Pictured below are the Ninon blouses, which I bought in white (it's $125 and available in black and red too) and the Joss blouse that I tried on in white (it's also available in navy), but I didn't buy it. The Joss was see-through in white and I thought a cami would ruin the look. If you're Parisian, you wouldn't wear a cami, which is what I was told by the very helpful French sales associate. Très vrai (very true).
We also popped into Clare V. who is best known for her leather handbags and accessories. I mentioned the brand and the new perfume in my last post. I wanted to smell the perfume and see the store because I typically shop online. The scent was pretty but there was one note that was throwing it off, so it wasn't for me (I ordered Glossier's "You" fragrance and it's my new signature scent, so I'm now very picky since I fell in love). The store is cute but very small, which impacts the amount of stock they can display, so if you're interested, I recommend you order online. When I was there, I was drawn to their amazing mood board wall pictured below.