Recently purchased & more
I bought this J Crew skirt because I thought it's a wear now/wear later skirt. I like having the option to wear it now on the weekends with a t-shirt and sneakers or to work with a blouse, heels and later with tights, boots, and a sweater. I like how the brand paired it with khaki, which probably wouldn't be my first choice. Now I have a new combo to try.
I left this contrast stripe Thomas Mason top at the store the last time I went to J. Crew. STUPID. Thank goodness it didn't sell out. I have a top that is similar and I was trying to be good, but I couldn't stop thinking about it so I went back. It truly is a bit different from the other stripe button down that I have because of the signature sleeves, which are AMAZING! On the weekends I would pair this with something more casual on the bottom - cargo pants, ripped jeans, and sneakers to balance the formal and conservative vibe of the blouse. And, for work, basically, any dress pants would be fine. I tried it on with the red skirt above and it looked adorable. I took my regular J Crew size, which is a size 4. Sometimes I wear a 2, so I tried it and it fit, but I didn't feel as comfortable as I did in the 4.
I also picked up these pansy earrings that are on sale. They come in a few colorways, but I wasn't as fond of the other combinations because they looked a little cheap. This pair is the perfect size on the ear as you can see.
I love to mix prints on the weekends. I think the easiest way/least intimating way to do it is pairing camo or stripes with a leopard print belt. I bought this calf-hair belt because I have the thin version, but at times I found myself wanting to make a bigger statement and some outfits call for a thicker belt. I also think an animal print belt is a great way to transition your clothes from summer to fall.
If you've been following me for a while, you know I have a huge weakness for Doen. I try to buy at least one item each launch. Their stuff sells out so quickly, so you have to move fast. I'm a thinker when it comes to making purchases. I like to take my time, so this acting quickly thing doesn't sit well with me. Anyway, the day of the launch I called customer service for help because I couldn't decide what to buy. I knew I didn't have time to think for weeks as I normally do. I figured customer service may have seen the items or even tried them on because they are a small brand. Bingo! The nice woman said she was my height (5'2) and tried almost all of the items on. She suggested the Elix dress because it was perfect for shorties like me and not too formal. She was right, it was perfect. Their clothes run true to size. I wear a size small.
I can't tell you how many DMs I received after I posted this on my Instagram Stories. I first saw this ice roller on Geri Hersch's Instagram Stories (she has a blog called becauseimaddicted that focuses on health, beauty, and motherhood) and that is all it took. Ice rollers are supposed to be good for depuffing your face, alleviating sore muscles and headaches, pain from bug bites, reducing swelling from pimples and more. For $11.99 I said why not. I used it this morning and it felt great. I focused on my eyebrows, eye sockets, and neck. I had a headache, so I took two extra strength Excedrin for migraines and got out my new roller, and It did help a bit. I used to get terrible migraines and my mom would always tell me to put a cold compress on my forehead. So, you know there's something to this cold thing if my mom tells you to do it. The roller is basically a less messy way of using an ice pack. It's an easy thing to do that may make you feel and look better, so why not.
I get the worst calluses. They aren't just ugly, but they are very painful too. They are so bad that I'm embarrassed to get a pedicure. I would have to get a pedicure a week to keep my feet looking human, which is a bit too expensive. I've used every file, pumice, and cream to help in the past. Yes, I even bought that pedi egg thing that was advertised on TV. Yes, I was that desperate. After kissing many frogs in the foot world, I finally found my prince charming after years of searching. It's so good that I called my Mom immediately after using it and told her she had to get it. I can't tell you how good my feet look and feel. I was finally pain-free and if I wanted, I could show my face at the local nail salon without embarrassment. The amazing tool is called the Microplane Colossal Pedicure Rasp Foot File and it is a miracle worker. It has a five-star review from 4,605 people on Amazon. Seriously, it will transform your feet. I was scared it would hurt because you use it on dry feel and it looks like a cheese grater, but it didn't hurt at all. Scary to look at but excellent results.
Things on my radar
How great are these zebra maryjanes? Statement making yet walkable, a rare and fabulous combination.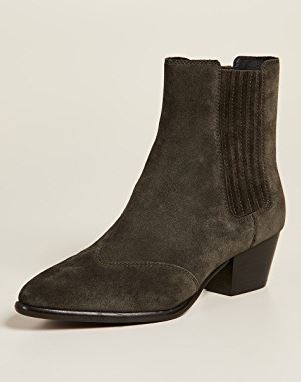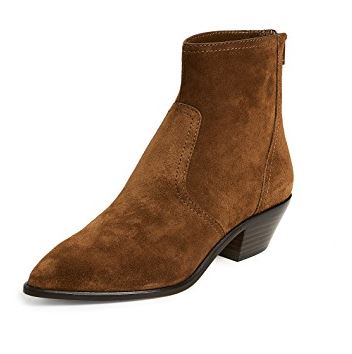 If you've been paying attention to the fashion forecast, western everything is hot for fall. Here are a few of my favorite boots that have a western vibe but aren't over the top: these, these, these and these. When the trend dies, I think you can still wear them. I still have cowboy boots from my college days. I went to school at Syracuse University and there was a Justin boot outlet that we would visit for discounted boots. I'm going to clean them up and see how they look.
This Ganni is a wear now/wear later dress. Cute now with open toe heels or sneakers and cute later with a leather jacket and boots/booties. I especially like dresses with more masculine footwear to take the edge off the sweetness.
I'm a sucker for a pretty white blouse. This one checks that box. Throw on a chunky cardigan and you're good to go when it gets cooler.
Happy to answer questions. Thanks for reading.
XO
Lacey