The Hit List
As we get closer to fall, I start to lean towards darker more fall colors, yet I don't necessarily change to heavier materials like wool. I like to layer and it doesn't really get cold for quite some time, so light and layered is what I adhere to when dressing for early fall. In late summer, I start looking for midi dresses in darker shades that I can wear with long cardigans, leather jackets, adding boots or booties to complete the look. This midi dress is perfect for my fall aesthetic.
Another constant for fall are plaids. I'm not a typical tartan plaid fan, but I really like this plaid silk top.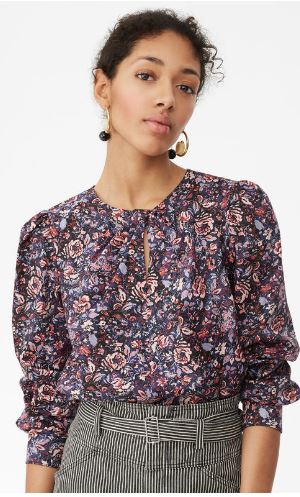 These J Crew Cashmere crewnecks are currently on sale, so it's a good time to stock up. You can see the color selection below.
While Everlane and J Crew offer inexpensive cashmere sweater options, some of my favorite sweaters are not budget-friendly and not cashmere. They are more appropriate for much cooler temps, so you have time to save up. They include this striped (two color options), puff sleeve (two color options), cardigan (two color options) and this cardigan (two color options).
When roaming around the web, I found a few stories I enjoyed, maybe you'll like them too.
I'm not a huge fan of blogger Leandra Medine's writing, but I do love her fearless way of putting outfits together. You can't deny she has style, so when Architectural Digest visited her new loft, I had to see it.
I follow a high low approach when it comes to hair and beauty products. I buy some things at my local CVS and others at Sephora. I'm open to trying anything, so when I read this article from Domino about 16 drugstore products that are better than a splurge, I got excited. I have a new list to bring with me the next time I visit my local CVS.
Okay, I'll admit it, I'm a huge Bravo fan. I crave something ridiculous to watch after a long and typically stressful day. I don't watch every show on the cable channel, but I do watch RHONY. Part of the attraction is that I live in NY, and it's always interesting to spot where they are and if you've been there or not. If you've ever wondered what happen to the NY housewives that are distant memories now, read this.
I'm a sucker for a good quote, so this list of end of summer quotes was a must read. Do you have a favorite? Let me know.
Thanks for the read! XO