Recent fall finds
Pixie Market started as a very small store on the Lower East Side of NYC and now it's grown into a large online boutique offering reasonable priced clothes. Some of the items are a little out there for most, but there is always a few classic gems to be found. Today, I found two outfits that you can easy break apart and wear with other things in your wardrobe. This cable knit sweater is a classic and this beige satin long skirt is a solid basic in a neutral color, so it could be worn with chunky sweaters you already own and paired booties or tall boots.
The leopard midi skirt and leopard shirt could also be worn with a wide array of tops or bottoms in different hues, but I would probably be basic and wear the top with black jeans and the skirt with a chunky black knit. I also like that the leopard pattern is not traditional.
I'm a sucker for a chunky knit, so obviously this green Cable knit sweater caught my eye. I love the cable pattern and the color.
I'm a huge fan of Into the Gloss (ITG), the beauty website, started by Emily Weiss in 2010. If the name Emily Weiss sounds familiar, you have probably heard it associated with the makeup mega brand Glossier. Anyway, every year ITG comes out with their top 25 2018 best of beauty list, which I bookmark for easy reference. There's always a handful of products I've been meaning to try and a bunch of new to me products that I add to my running list..
As a J. Crew lover, I couldn't pass up the 40 percent off sale that's going on. I had been eyeing this skirt for a while, but I wanted to read a review (there weren't any for a while) and I was busy at work, so I didn't have time to stop in the store. Finally, two excellent reviews came in and the 40 percent sale started, so I took a trip to the store on Friday night.
Wrap skirts typically work well for me and this one was no exception. It's a thin silk with slits on the side, so beware if slits aren't your thing and you don't want a thin silk as it gets colder. I think It's perfect almost all year. It will work with a bare leg when it's warm, and I was wearing over the knee boots that will work when it gets colder paired with tights. I loved how it looked. I went down a size and bought an xs. It comes in a print called caramel and in black and white pattern (see top on model). I opted for the caramel, which looked more expensive (in my opinion), unusual, and the background color is a rich copper that is one of my favorite colors.
I also bought this hat in caramel, which looks like it's sold out now. When I got home, I regretted not buying it in black, which wasn't available in my size in store anyway. So, I went online and it was sold out. Boo. I woke up on Saturday and it was back in stock, so I quickly ordered it. Yea! The lesson here, don't lose hope and keep checking online. It also comes in a light grey with a pink velvet band, but I didn't feel like the grey was versatile enough for my wardrobe. I love Janessa Leone hats, but I don't wear hats enough to justify the price tag and I also haven't found them in store so that I could try them on, so I was really happy to find these.
Here a few cute items I spotted:
Ulla Johnson - her clothes are always pretty. The ruffles and bow could be too much together, but they work here.
Saloni - romantic and I love the balloon sleeves!
RXmance sweatshirt - only large and XL left, but you can call Shopbop to see if they will restock.
Nation Ltd balloon sleeve sweatshirt - In white and pink. It's part of Bloomies Friends and Family sale. I like that it's not as casual looking as most sweatshirts.
Faithful Noel maxi dress - I'm a maxi lover and I'm completely obsessed with anything marigold.
Reversible fleece jacket - This is perfection. I now have three fleece jackets/sweatshirts, but I'm so tempted.
plaid blouse - I like the bit of femininity with my plaids.
faux fur scarf - it also comes in a really pretty pale yellow and leopard print. If you have plain outerwear, these will liven them up. I may go for the blue.
pom pom sweater - looks more expensive than it is!
Jacquard sweater - love the color! I'm crazy for marigold and mustard this season. This one also looks more expensive than the actual price tag.
Printed jacquard dress - This isn't the usual shape dress that I buy (shirt dress) from Zara, but I may take a chance and order it.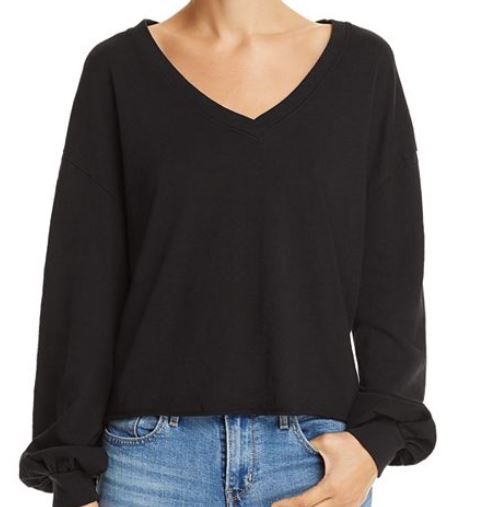 Anyone else psyched for Halogen x Atlantic-Pacific Collection? I'm a fan of blogger Blair Eadie fearless styling and love of color and print, so I'm excited. I have my eye on the printed shirt and matching skirt set below. The collection is available at Nordstrom.com and selected stores. It's priced below $250 and it's size inclusive. It debuts online on Oct. 22. After I saw the video, I knew I would be ordering. What about you?
Let me know what picks you're loving. Thanks for visiting!
XO
Lacey