Pretty Things - flora, fauna and lace
Based on my love of the fit of the black and white Zara embroidered tunic that I blogged about on May 27 I tried on the striped tunic (below). It's embroidered with leaves and has the same shape, so I thought it may work. Yep, It's a winner! I bought a small, but in some Zara dresses, I need a medium. I recommend that you try Zara items in a store and see if it's available online. Why? If it is in stock online, order a fresh item that hasn't been manhandled by the masses. You can also see this dress on Sarah Vickers of the blog Classy Girls Wear Pearls below. Another tip, the best Zara stores in NYC are in Soho and lower Fifth Ave. The one near me on the UES is terrible. Seriously, avoid it at all costs. It's a mess and typically has a smaller selection than Soho and lower Fifth.
Remember these Anthropologie lace pants that blogged about on May 20? Well, they went on sale. Yay me for being patient (it's rare and worth celebrating). They went from $198 to $148.50. I bought a small, which were a bit big. I tried the xs, but they were too fitted. I plan to wear them to work with a white tee or short sleeve chambray and a white blazer or with a white or graphic tee on the weekends with sneakers or slides.
I think this could be a great day to night dress. I love the color, the print, the keyhole back, and the slit.
I can't wait until Tuesday when my new Doen blouse arrives. I couldn't decide between the two colors below. I ultimately went with the yellow after a few days of ping-ponging the pros and cons of both colors in my brain. A PSA for y'all with Doen: jump on things you like because they sell out fast. This fleur blouse that I bought is sold out already. They do have a "contact me" when the item is back in stock feature. They also usually use a print in two different blouse styles and a dress as you can see below with the Loire dress (I'm tempted) and the Jane blouse, so you always have options if something sells out in a print you love.
Emily Schuman of the blog Cupcakes and Cashmere and Sam Wennerstrom of the blog Could I Have That are a big Doen Fans. Below they are wearing the Henri blouse, that is now sold out (Guys, I wasn't joking when I said things sell out quickly). I signed up for an alert, so I can see if I still want it when it comes back in stock.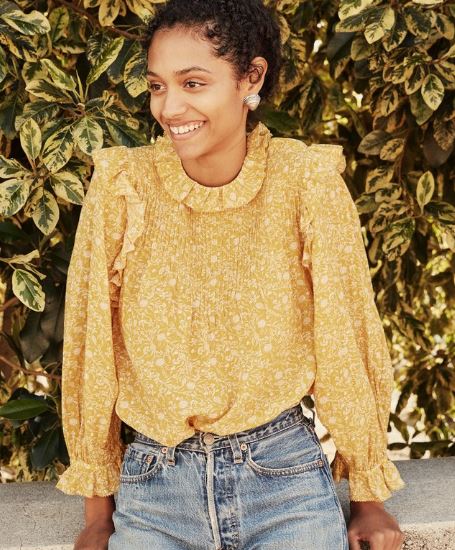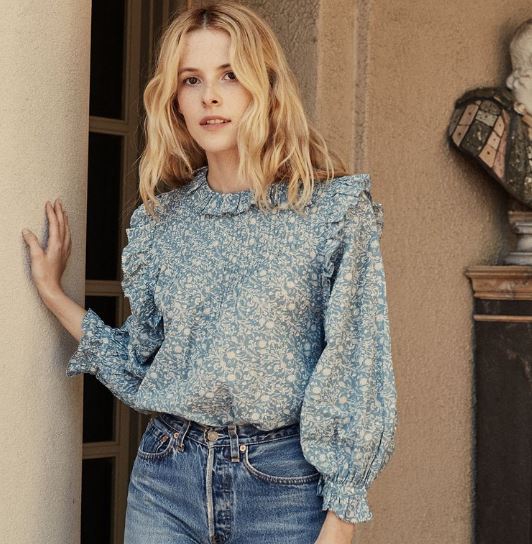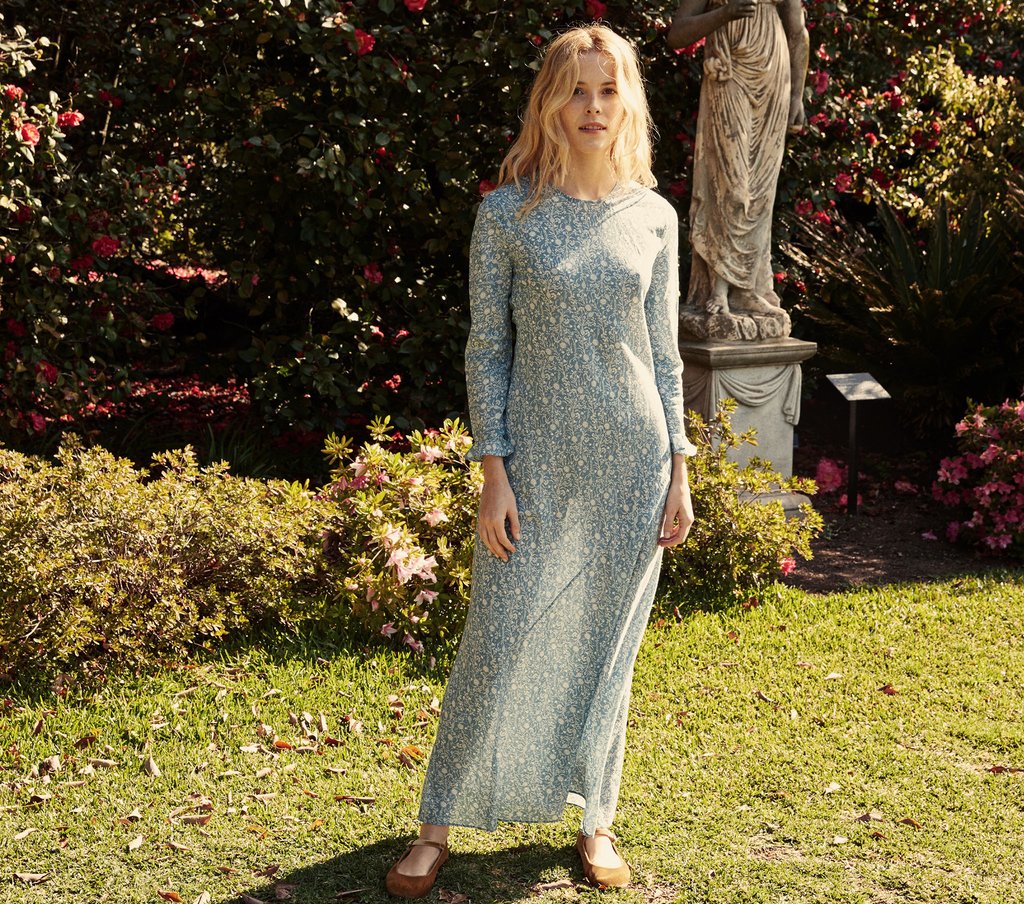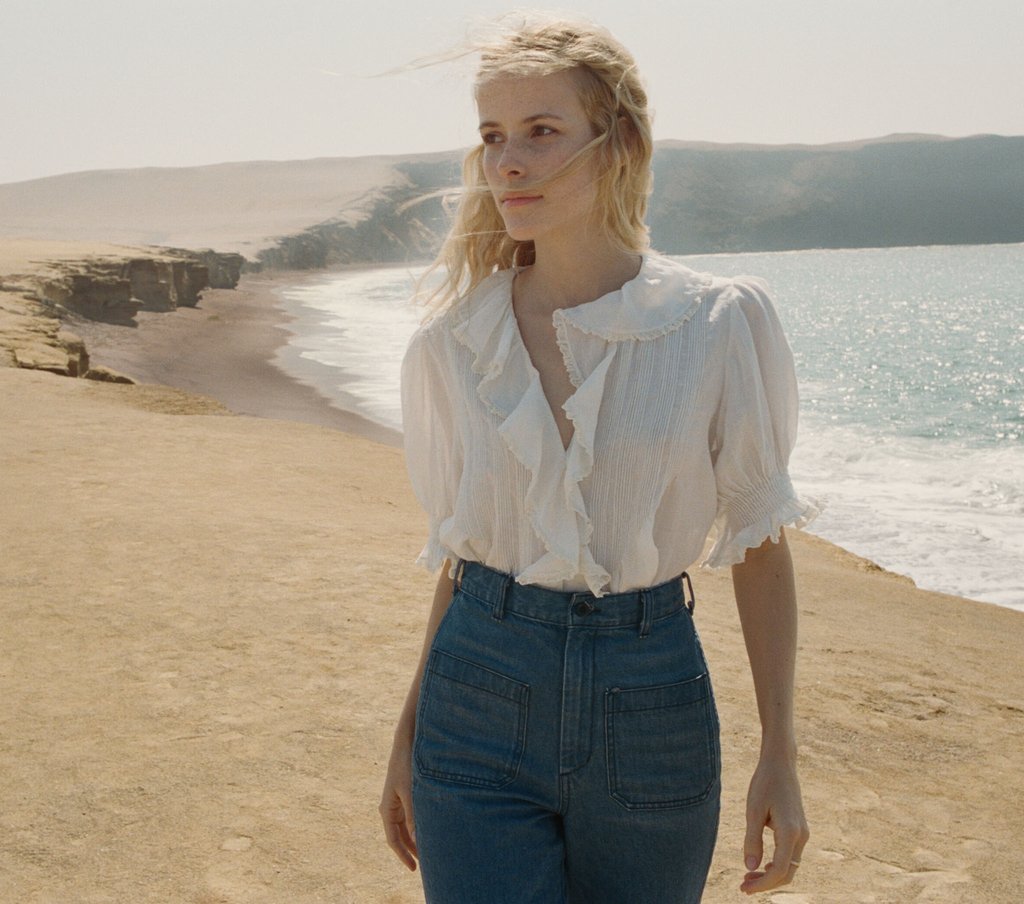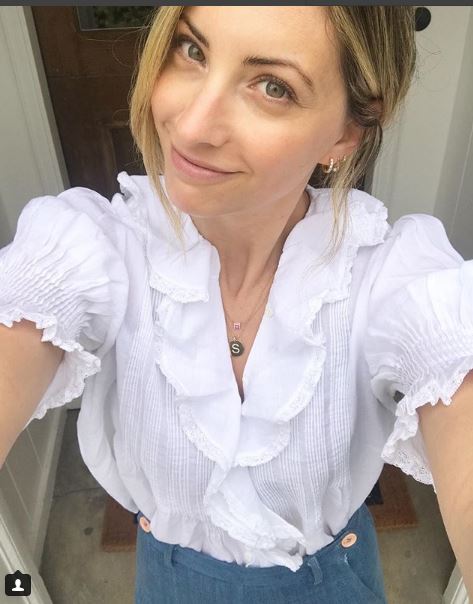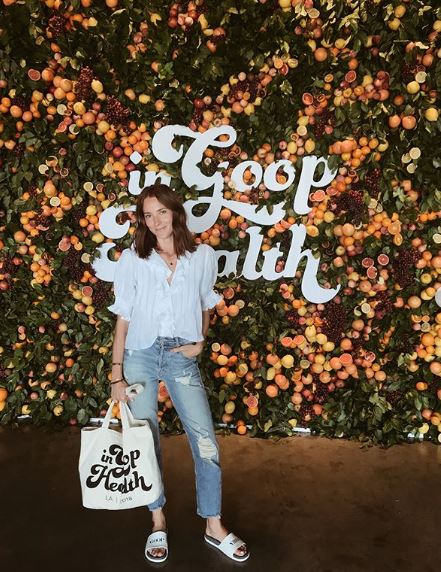 These Amarise flower stud earrings are so pretty, don't you think? They come in blush and white, but I think this blue is the prettiest of the three. You can see how they look on the ear below.
Thank you for visiting! I'd love to hear from you.
- Lacey