Caught and Bought - things that caught my eye or I bought this week
Clare V. came out with an adorable bag called the Chou Chou, which is a French term of endearment, meaning little cream puff. Isn't the name apropos? You can wear it with the handles looped one inside the other or use a scarf to create a custom handle. The bag is available in petal, tan and red. It's a great casual evening bag, no?
I saw a friend of mine wearing these amazing silver Tods Double T Mules, which aren't in my budget, so I may opt for these olive/gold Madewell Harper Mule. Both are great transition summer to fall shoes.
I took a trip to Zara because I was in the neighborhood. It's rare that I find something that fits. It reminds me of the story of the three bears, It's either too big, too small and rarely just right. I also find a lot of stuff looks cuter online than in the store. I typically go in for a look, try things on, and if I like something, I order it online so it's hasn't been manhandled and hopefully arrives in better condition. This time, I bought from the store and I inspected my items carefully. I actually switched tops after inspecting the lace. I just heard that Zara may start shipping items from stores so that people get things quicker. I would rather wait. I walked away with this animal print pleated skirt and this lace blouse. I seem to do well with pleated, elastic waist skirts at Zara, so I look for them. I always hide the elastic (hate the look, love the comfort) with a belt, a sweater, and a blouse and blazer combo.
The lace blouse is cream colored and has a crinkly texture that perfectly matches a J Crew skirt with the same texture and color (seen on my Instagram @theedgyprep, which is why I bought it. The blouse is quite lovely in person and doesn't scream Zara. I plan to wear it with the skirt and a brown belt and brown boots. I'll also wear it casually with jeans and brown boots.
I didn't see the woven bag or these woven moccasins but I think they are adorable from what I can tell online.
I tried this pompom top and the matching pompom culottes but even in an XS, the top was too big and the medium bottoms fit but came with a serious case of camel toe. I tried the large but it was swimming on me. Yes, the three bears syndrome but nothing with this outfit was just right.
As summer draws to a close, I typically don't buy clothes that have a white background or are pastel, have eyelet or anything too summery. I start looking for darker colors and dresses I can wear with a cardigan and boots. Here are a few things I've purchased at J Crew that have passed my test.
1. olive floral dress - It passed my color and cardigan and boot test.
2. Thomas Mason tie waist top - It has long sleeves and it's so damn chic. Also, the main detail won't be hidden by a cardigan or blazer.
3. Beaute tee - It has long sleeves and I've always been a bit obsessed with this color combo. Plus, it's really soft and perfectly slouchy. It runs long, so size down. I sized down two sizes.
4. Abigail Borg shirtdress - Again, it passed my color and cardigan and boot test
5. Ribbed long cardigan - I didn't have a long navy cardigan, so it fir a hole in my wardrobe. It also wasn't too oversized or too long, which is rare for me. I liked that it had the ribbing, which was visually interesting and not just a plain cardigan. I think texture can elevate a basic and this is the perfect example.
6. This fits into the I would have bought category. I didn't buy this Thomas Mason bubble shirt because it looked terrible on me, but I loved it. Also, the whole point of this top is to show the sleeves, and I knew I would have to wear a cardigan or a blazer because I'm always cold. I have a large chest and if you're too covered up, your chest looks even bigger. I need to show some skin around my neckline and this one was too covered up for me. I'm a big believer in buying classics with a twist, so if it works for you, get it. Like the ribbed cardigan above, the sleeves sets this apart from a typical white buttondown.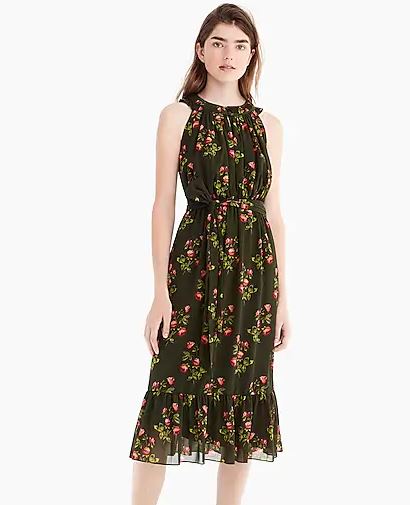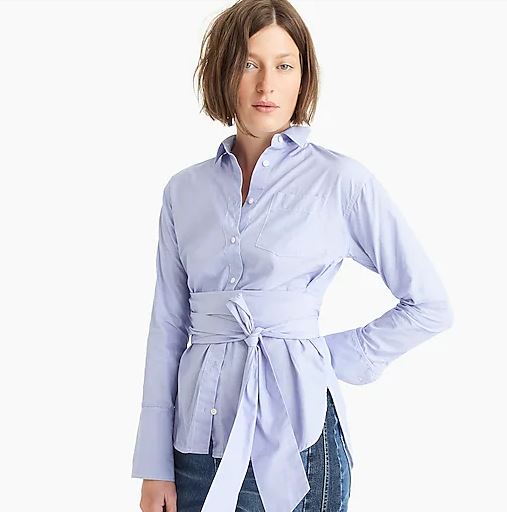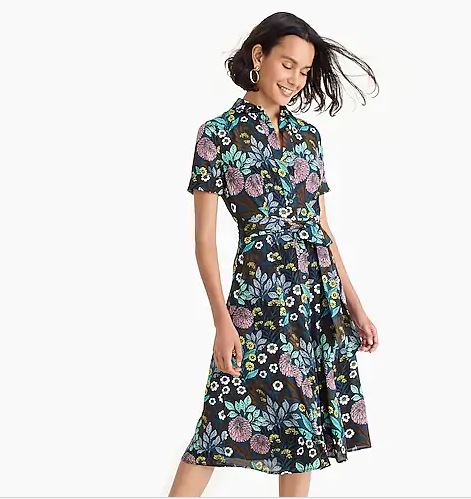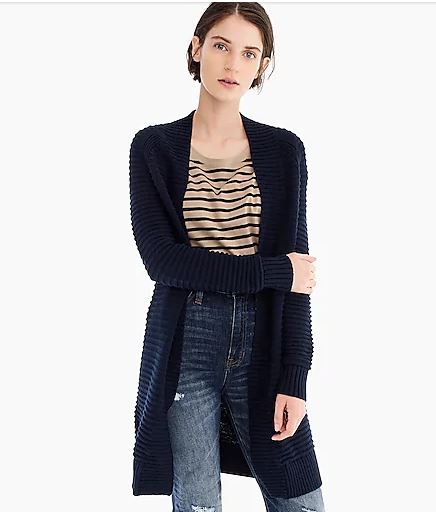 If you read my blog last week, I told you I would post the picture of the Kate Spade dress I bought with the spend and splurge promo once it went online. Well, here it is, it's the Swiss dot sleeveless dress. There some others that I also love like this and this one among others.
I'm loving this Misa Natalia dress that passes my wear it now and in the fall test. I don't look good in denim skirts, but I think this dark denim pencil skirt is a good transition piece if you a denim skirt lover. It would look cute with a chunky sweater or a hoodie and sneakers or booties. The dark color also helps if you want to wear it to the office.
I'm a big fan of animal prints like these Sam Edelman loafers to transform summer outfits.
The color of this mini Carolina Santo Domingo bag easily works for fall. It has a Celine look without the price.
I'm a fan of florals year round but in my opinion, the background should be dark. This jumpsuit would be cute with a leather jacket, a long or cropped cardigan, and black closed heels or loafers and you're good to go for early fall.