Sales and the best purchase of 2018
Yes, I fell victim to the after X-mas sales. My birthday is also in a week, so I use that as an excuse to buy. Not good, Lace. Anyway, what's done is done. I'll get back on track as I always do. Now, let's get into what I bought.
Zara's sale will continue while supplies last, so you have time. I bought this mustard strappy dress and the printed jacquard dress below. I plan to wear the mustard dress with a chunky sweater so that the dress appears as a skirt or I'll pair it with a turtleneck under it and a long cardigan or blazer on top. The jacquard dress is perfection. I love the print and the cut works for me. I'll post photos of both dress to my Instagram this week. I also bought this two pack of sparkly socks and these combined tweed ankle boots from last week's post. I liked them when I posted hem at full price last week and I like them even more now that they are on sale! I also bought ruffled blouse that I saw on Emily Schuman's Instagram - see photo below. SMH, I'm so easily influenced.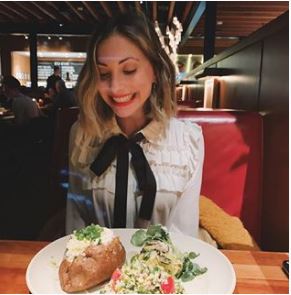 I was inspired to buy the yellow dress b/c of a British blogger @honeybelleworldblogger.
As for the socks, I will probably chicken out, but I would like to try the sandals and socks look below and in the Zara photo above ( not a fan of how they styled the look). I would try the look with a slip dress and sneakers or a long dress. I'll probably just wear them with jeans and sneakers, loafers, or better yet, mules so that you can see more of the sock. Photos: Style Du Monde
If you didn't know, Everlane is running their "Choose What You Pay" event (Sunday is the last day). I've been wanting this dress below for a while now, so i jumped at the chance to pay less than the regular price. I love pink and slips dresses, so it was a no brainer for me to grab it. This video from a blog I follow called the Fancy Pants Report, shows you how versatile the dress can be. Watch it here. The dress it thicker than expected and tts. There were a few other items I wanted like this and this but I stopped myself.
I've been a fan of Stubbs and Wootton for a while but they are pricey. A few weeks ago, I went to try on a pair at their Madison Ave store to see if I liked how they fit and to get a feel for my size so that I could search for them on The Real Real. I did check out S&W's sale on the site but didn't see anything I liked. I didn't see anything I liked on The Real Real either. After Xmas, I checked back on S&W's site and low and behold there were so many cute options. I bought the bee version below b/c I loved the colors and I thought that they (and the camo versions too) would transition well to spring. Here are my sale picks:
The minute this dress went up on J. Crew's site, I knew I had to have it. I'm not sure why I love dresses with a frilly bottom but I do, so I had to make it mine. I returned a gift I received that wasn't my taste and used the value from it plus my reward points to get the price down. The dress has an elastic waist and a faux wrap top, which is way too big. I sized down to a zero to get the top to be a bit smaller. I still need to add a button or a pin in order to wear it to work. I could also wear a black cami. I'll wear it now with a long cardigan with over the knee boots and with heels and a leather jacket in the spring.
A few weeks ago I picked up a Uniqlo crewneck on a special promotion. Boy, was I late to the party. I never tried their cashmere before. So, now I stalk their site for promos, which they offer fairly frequently. When I caught another deal, I went for a black v neck this time. I highly recommend.
I've always wanted clogs and my mom always hated them. She thought they were loud (true) and dangerous (possibly). I think my older sister finally wore her down and she let her get a pair. Anyway, if you follow me on Instagram you know that Loeffler Randall is one of my favorite brands. I love their shoes with a passion. I've been stalking several pairs since November when their spring, summer and fall selections started to go on sale. I've picked up four pairs including the Loeffler Randall clogs below since late November. The clogs are sold out everywhere (they do have a size 11 on Loeffler's sale page here ). Look how cute they look on Jessie Randall. Like Jessie, I'll pair them with jeans and something simple on top.
While I have many favorite purchases from 2018, I think the one that changed my life the most and will pay off in the long run is my Dyson Air Wrap that I received in late November. It's pricey, so I split the cost with my mom as my Hanukkah and b-day present. I haven't touched a hot tool in more than a month, which is big because I was an addict and my hair was suffering the consequences. I used an iron everyday. You can find the product here, here, here or here. Yes, it's typiically out of stock but add your name to the lists that they offer. There are three different sets - for volume/shape, for smooth/control, and an even pricier combo set for multiple hair types and styles. I chose the version for fine hair or volume/shape. It dries my hair so quickly and with a ton of volume if I use the round brush, and it's the first time that I've been able to curl my hair. I've had every curling contraption imaginable but I wasn't able to master any of them. I can already see that my hair is healthier. I lost a lot of hair because I was abusing my hair, and as I'm aging, my hair has gotten thinner. I've been taking Nutrafol for more than a year (my dermatologist recommended it). You can find out more about it here. So, my hope is that less heat coupled with the Dyson will make a significant difference in the length of my hair in 2019. Here's to bigger buns and longer ponytails in 2019.
Thank you for visiting. I'm not a well-known blogger with many technical skills under my belt, so your support means everything. I loved hearing from you in 2018 and hope that I get to know you better and have the opportunity to answer more of your questions and comments in 2019. I also hope I have the opportunity to expand this blog in the year ahead based on what you'd like to see, so let me know. I hope you have a healthy and very happy 2019.
XO