What's new & notable this week
I typically don't like flannel shirts because they aren't quite girly enough until I found this one. Lucky for me it's included in Kate Spaces 30 percent off sale. The combo of the plaid and the western details check two trend boxes in one top, but neither trend is overkill. The top is so soft and has snap buttons that you find on traditional western shirts, which is a small detail that I love.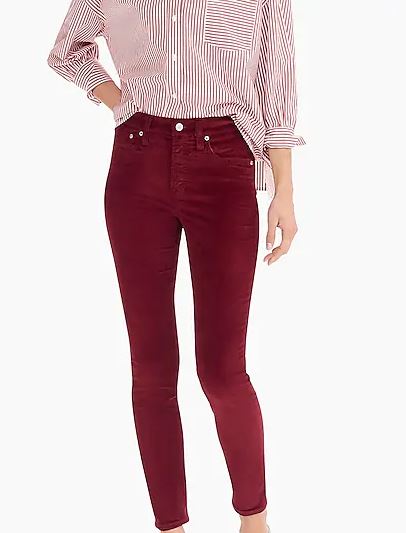 Right now these velvet high-rise toothpick jeans are 30 percent off. They come in black, green, burgundy, and grey. They are so comfortable, they feel like you're wearing an ultra soft pair of leggings. I typically shy away from toothpicks at J. Crew, but these aren't skin tight on me and they are very comfortable, so the fit of the toothpicks depend on the material I guess. I'm glad I gave them a shot. I highly suggest you give these a try. You can dress them up or down very easily. They are the "I want to wear jeans, but I can't because I need to be more dressy or put together" jeans.
I keep spotting more and more balloon sleeves lately, which isn't a bag thing. I fell hard for this J Crew  cashmere tieneck blouse with amazing balloon sleeves. I was disappointed that it didn't work for me. It was too low cut. It's really pretty and a classic that you can wear for years. It would be a great date night top for cooler temps. It comes in navy, black, burgundy and heather camel It's cashmere, so there's no itch factor, which is an issue for me. It's a slim fit. No, it's not tight, but it's not over sized and follows the shape of your body. It hit at the top of the hip on me.
I can't get enough rust in fall, which is why this knit caught my eye. I wasn't fast enough to catch this mock neck varsity stripe sweater. If you're a medium or large, you're in luck, but you may want to hurry. If you like the one above, but you're a small or an XS, you may want to try this one, which is in stock in all sizes.
When I received the 30 percent off (It ends tonight, Sept. 16) Kate Spade email, this is the dress that I put in my bag. I imagined it with a long cardigan or a leather jacket and knee high or over the knee boots. They didn't have it in store, so I ended up with the flannel shirt above instead. I love how they styled it with burgundy boots, which is a bit unexpected. Speaking of shoes and boots, aren't these a gorgeous shade of blue?
I only shop Kate Spade when there's a good promo because their dresses are a but pricey. Even when there's a sale, I look for the dresses that aren't part of their Madison Avenue collection line (like the one above) because the collection pieces are still expensive even when they are on sale. It's actually an easy way for me to narrow down my choices.
I'm really enjoying the Second Life podcast found here. It's hosted by Who What Wear and MyDomaine co-founder Hillary Kerr and highlights major career changes of successful women. I love the fact that show "chronicles the career changes that can come at any age." There are 30 episodes to date, which feature home style expert Emily Henderson, Alli Webb, the founder of Drybar; Tracy Sun, the co-founder of Poshmark; April Gargiulo, the founder of Vintner's Daughter, to name a few of the famous females featured. It comes at the perfect time in my life when I'm questioning a lot and need a bit of encouragement and hope. The take away for me — you're never too old for your life to change for the better. Give it a listen.